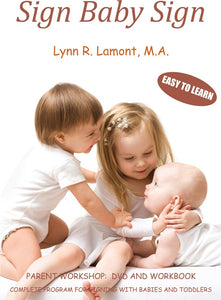 This is a complete baby sign language workshop program.  It includes a digital E-book and digital video that may be downloaded.  
Teaching baby signs is easy!  Instructions are simple and clear for parents and professionals who want to use sign language for toddlers and babies.  All done in sign language, milk in sign language, sign language more and baby sign please are included in the 90 signs presented.
Take a look at what this program offers. It contains 90 baby signs with illustrations, the manual alphabet, number signs, nursery rhymes, a baby sign journal, and so much more.  

HAPPY BABY SIGNING!  You will love it.  Baby signing is so much fun!